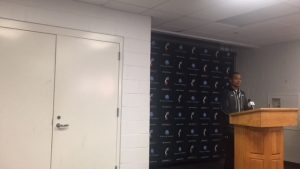 Alex Frank | Sports Director
Thirty-three years ago, the eight-time platinum album-winning band Journey released their No. 9 Billboard Hot 100 single, "Only the Young," with the lyrics explaining how the young are free to fly away.
This year, the Cincinnati Bearcats, one of the nation's youngest college football teams, are now free to fly into a new era filled with unlimited potential following a 42-0 pummeling of Navy last Saturday afternoon at Nippert Stadium.
The win lifted the Bearcats to 8-1 and sets them up for a potential run to the American Athletic Conference championship.
Now the real fun begins
There's a phrase, "Class of the League," mentioned frequently here at the University of Cincinnati.
It's mainly used in the sportsmanship segment of the public address announcements that proceed a Bearcats sporting event.
But it can also be interpreted as being on top at season's end.
The Cincinnati Bearcats are 8-1 at the three-quarter's mark of their 2018 regular-season schedule, and wins in their last three games plus a Temple Owls loss will earn them a berth in the American Athletic Conference championship game on Dec. 1
"It's crazy [how fun an 8-1 locker room is]" junior wide receiver Rashad Medaris said. "My freshman year 4-8, I tried to learn as much as I could. And then last year 4-8 as well, and then I got hurt. So that was a rough time for me.
"To come back this year 8-1, the atmosphere is amazing. Can't really say much. We work hard for it. Nothing's given to us."
The Bearcats have passed a lot of "tests", so to speak, this season while also erasing bad memories from the two previous 4-8 seasons.
The latest came Saturday against Navy.
After giving up a program-record 569 rushing yards to the Midshipmen in a 42-32 loss last year, the Bearcats gave up just 124 rushing yards against Navy's vaunted triple-option offense in a shutout victory.
"You can ask those guys, I think I ranted and raved of how many rushing yards they had [last year] on Tuesday," Fickell said when asked about why last year's game against Navy was still bothering him. "I think maybe I made some things up about the first half of the game. If you study history so much, you learn from it.
"We have some young guys that are playing that weren't there last year. They had to be able feel the intensity of the things that we needed to do to go out and perform like this."
Now at 8-1, they can go into their next two games against South Florida and Central Florida with house money as they push for the American Conference's East Division title.
The two schools from the Sunshine State were the top two teams in the division last year, and the Bearcats were outscored in the games against both of them last year a combined 84-26.
These two games, without question, will be the Bearcats biggest tests of the year.
They weren't expected, though, to be 8-1 going into the game against South Florida, so there's no pressure on this team to win that game or the one at Central Florida.
The hype leading up to these games, though, is going to be fun.
Next-game mentality
 The Bearcats game against South Florida will get underway Saturday at 7 p.m. and will be televised on ESPNU.