This month, our focus is on Stephanie Cuyubamba Kong as she works with the community to break down barriers and reconstruct narratives for people of color through her art practice.
11,597.
That's the most recent estimate of students of color here at the University of Cincinnati. To some, that can be an amazing, hopeful statistic. However, with the over 45,000 Bearcats that live within the Queen City, only 1 in 4 of them are people of color. These students are always working tirelessly to make the change they want to see in the world a reality. These students are members of the community that work past their coursework, past the classroom, and outside the campus to leave a positive impact on the city we call home. One of those great people is Stephanie Cuyubamba Kong.
Stephanie is a change-maker. Even though she doesn't consider herself an activist, she hopes that her work will inspire change in her community.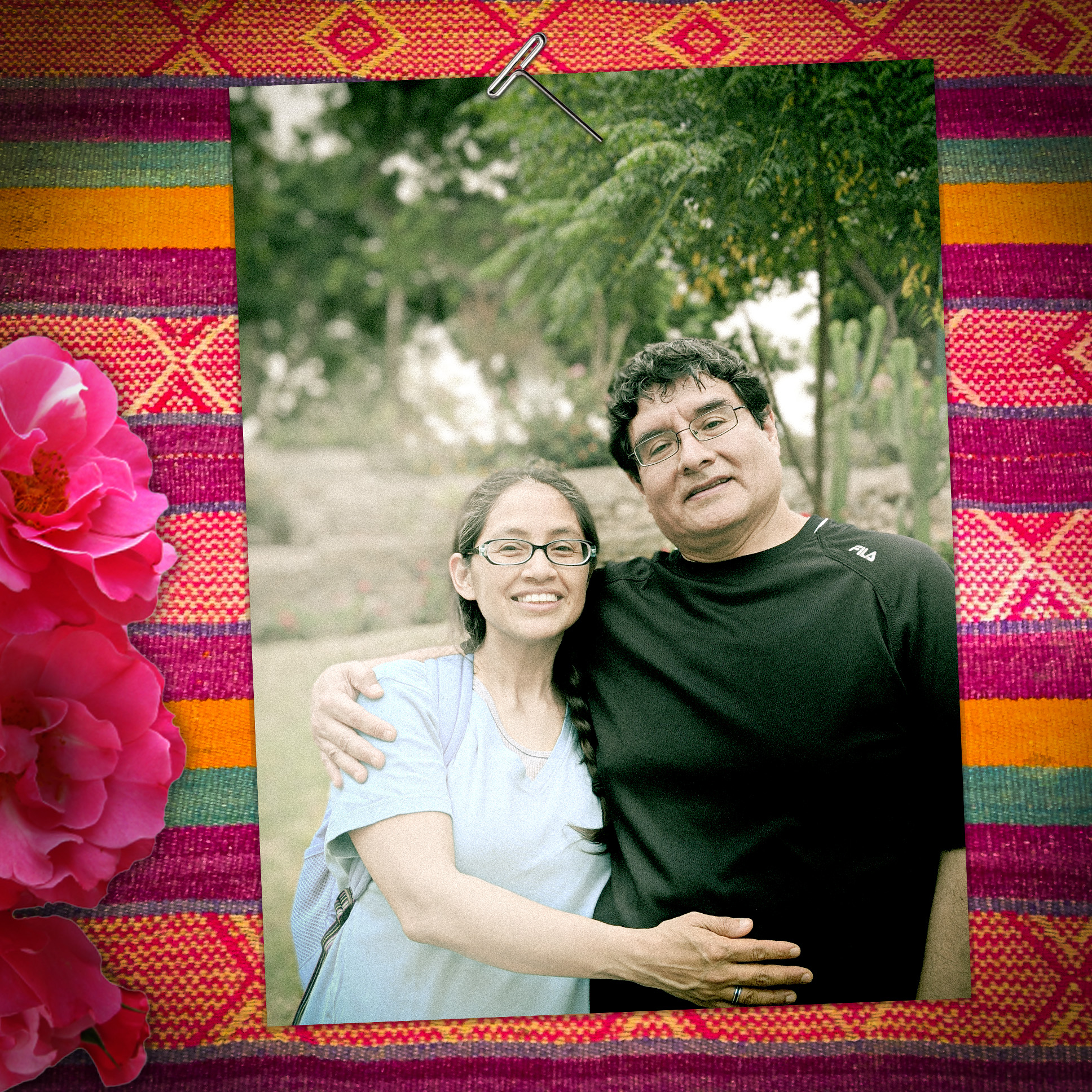 Her mother and father are from in Peru, but she was born and raised here in the Queen City—eight minutes from main campus. Her dad, a chemist, even went to UC for his master's degree in the 1990s after he immigrated to the US.
Cuyubamba Kong is a multidisciplinary artist, working in both photography and printmaking. She harnesses both mediums to create striking images with dreamy, vivid aesthetics that captures the attention of her audience whoever they may be. Her photography balances between portraiture and still-lives, but her focus stays the same: to maintain agency over her story and her culture. In the past, artists of color would be shunned by the art world for their work being received as "too ethnic" or "overly ornamental". In return, white artists would travel to foreign places and create work inspired by the culture they were absorbing, which was well received and notarized. Times have changed (somewhat) and Cuyubamba Kong is a part of that change; reclaiming agency over her identity, creating new construction of culture along the way. She often puts herself in front of the camera in her portraiture, adding items and textiles symbolic of her culture to the scenes.
With her work focusing heavily on different aspects of her identity, she often uses some of her favorite things in her images. Her beloved foods, beverages, patterns, environments, and music all have been featured in her work as she uses them to illustrate her culture and identity as well as relating to others. A lover of all things art, she is also a trained cellist with over ten years of experience, having even played in a touring ensemble, and is an avid stan of reggaetón music, noting Bad Bunny as one of her favorites.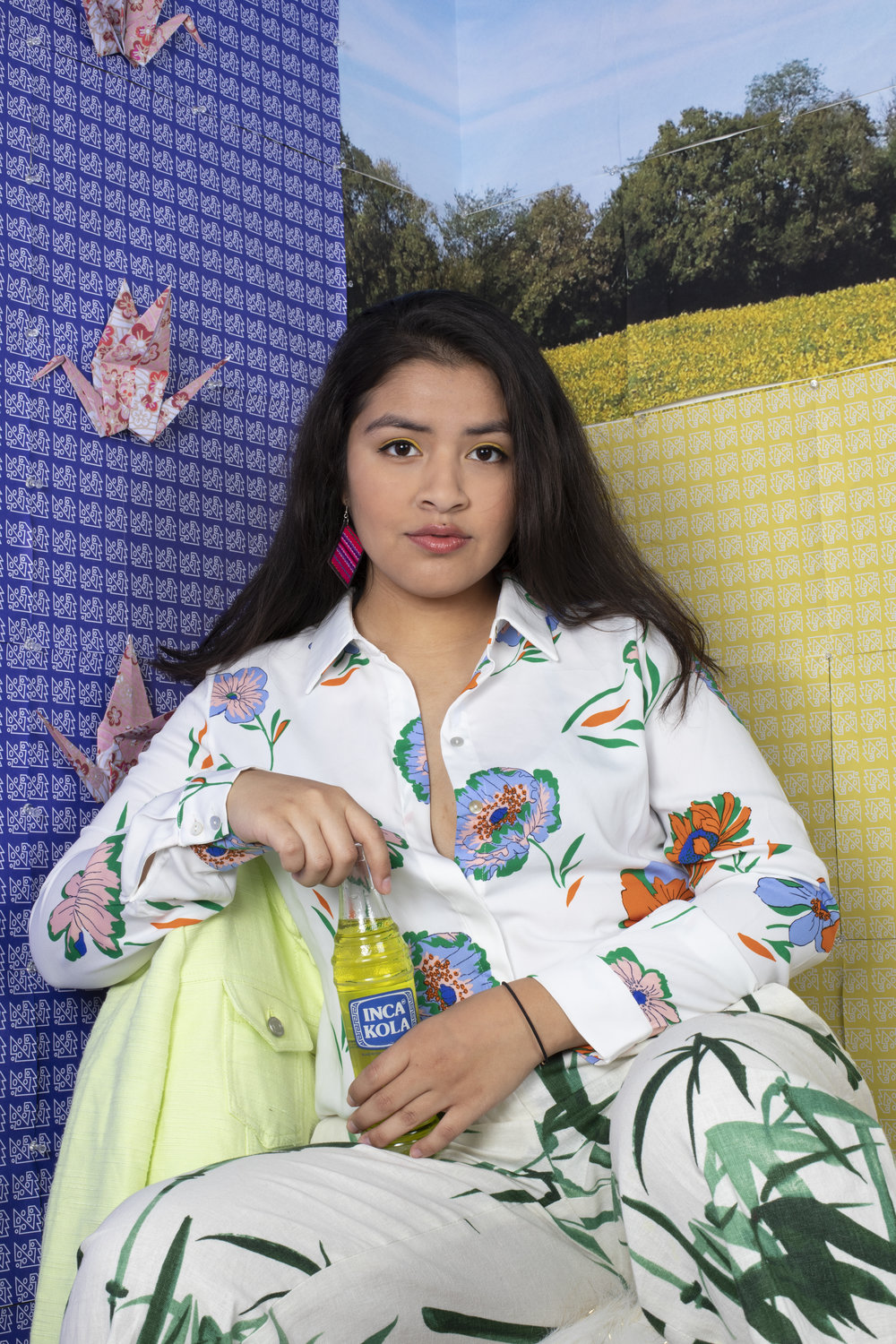 Some of her pieces that focus on her identity were selected to be featured in a show at the Kennedy Heights Arts Center earlier this year. The show entitled Revolutionary: Being American Today featured works from artists based here within the tristate area that highlights the unpacking of alienated groups of people here in America. Curated by Jessica Oberdick, the works highlight the experience of marginalized individuals, with themes ranging from police brutality, policies that limit the rights of women and LGBTQ+ individuals, and the mistreatment of the refugees who seek our border for safety, that make it clear that not all individuals who reside in the United States are offered the same protections and are not defined as citizens equally (source). (I have an affinity for her piece "Kola Queen and Don't You Forget It" by the way.)
On top of making work inspired by her culture and community, she actively works within the community to further break down barriers that exist between fine art and urban dwellers. Just last year, she was one of the Contemporary Art Center's Artist-in-Residency, where she crafted and executed 20 unique and thought-provoking workshops for local teens and patrons. Based on the deconstruction of different obsolete art concepts, her workshops featured ideas like the merging of high concepts with low-cost materials, giving teens the autonomy of creating their own portrait shoots from start to finish, and even curating dance parties—with reggaetón as the soundtrack, of course. Cuyubamba Kong's knack for merging ideas of cultural vernacular, ethno-musical studies, and art as a vehicle for agency shined through in these workshops.
Cuyubamba Kong's work and practice have a common thread of pragmatism and optimism. Her work, as lurid and beautiful as it may be, is very based in reality. The images she creates have a sensibility and immersive quality that connects with the viewer. Through her community engagement, she is destroying any barriers that have been created between the public and the artworks, speaking to the viewers rather than speaking for them. In tandem, her work is objectively positive, bright, and direct in its goal of demanding optimism in the viewer. By creating what she wants to see in the world, Cuyubamba Kong is actively inspiring youths and investing in the community with every socially charged work she creates. On campus, she is also the president of the UC Print/Zine Association, a printmaking collective within DAAP. As president, she has taken some of the work produced to book fairs, community workshops, and professional conferences all over the past two years.
In all, Stephanie Cuyubamba Kong is a great example of a Bearcat. She naturally embodies the values of respect, responsibility, and inclusiveness that everyone at UC, in Cincinnati, and in the world should live by. We are proud to make her our UC Community Spotlight focus for March and we wish her the best of luck in her art practice.
Visit Stephanie's website to learn more about her art practice and work within Cincinnati: https://stephaniecuyubambakong.com/
If you know anyone that does great things here at the University of Cincinnati, make sure to send their info and a description of what they do to Alex Macon at alexmacon@bearcastmedia.com