For our newest Community Spotlight, we focus on local rapper Grandace as he gives us insight on upbringing, philosophy, his inspirations, and his future sound.
Life is crazy people. There are so many crazy things going on not only in our country but in our own personal lives. We always have something to worry about; whether it is around the corner, or in our faces. One of those crazy things that have happened to Bearcast Media and myself, is me losing my external hard drive. This hard drive has a lot of information on it including images that I have taken, stories and papers that I have written, and most importantly, a great interview with Jody Jones. A lot of you may know him better as Grandace.
Our community spotlight is now on the musician and recent University of Cincinnati graduate Jody Jones. Since losing the only device with the finished interview and clips, I will now do my best to reproduce the information that was learned in the interview while also simultaneously reviewing the Dayton-native's New EP Also Codachrome. So, let's dive in.
Jody Jones is and will always be the bright spot in someone's day. If you have the pleasure of meeting him, you will be greeted with a smile and fingers crossed, some much-needed knowledge and wisdom. Acknowledging that everyone has something to go through and to deal with, he makes it his mission to always try not to add to someone's pressures. This life mission is reflective in his music. His last mixtape, Feel Good, made his fans—the Grand Council, do exactly that.
Growing in California, his mother was a collaborator with producer Sheldon Reynolds. Being exposed to music and production as early as 4 years old, it's natural that he is now a musician today, writing, recording, and producing his own music. After moving Ohio, Jones decided to go to UC, citing the Electronic Media program as the biggest draw to the university.
"They didn't make me choose whether I wanted to do audio or video…they let me do both."
A filmmaker alongside being a musician and producer, Jones love the storytelling that happens through visuals and films that you at times can't get audibly. The one thing that made Jones stay at UC was the connections that he made with the people in Cincinnati. Taking the time to get to know the people that he comes in contact with, he builds lasting impressions on everyone and goes out of his way to make someone smile. A jack of all trades, he was involved in many organizations on our campus, ranging from Metro Men to the AACRC, but always finding time for his music.
Also Codachrome Review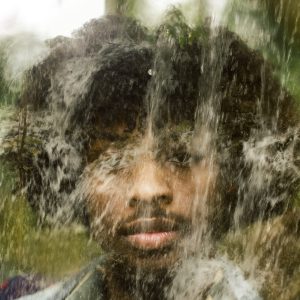 Grandace is a force to be reckoned with. His last EP, Feel Good, proved that the rapper knew what he was doing. This EP, however, proves that Grandace has a versatile and lengthy career ahead of him. Also Codachrome was released in March of this year. The 5-track work is wonderfully mixed, each song expanding the journey. He describes the tape as his self-confrontation with his purpose and future. The project channels his troubles battling existential doubt into a new world that he creates within the first 30 seconds of the album. From the first track, "Elevated", the listener understands that this isn't your normal amazing Grandace tape, it's something much different.
"I've only released music while in school…now I'm about to graduate and my perspective is going to change."
Well, the semblance of change in perspective is apparent in this mature and sophisticated masterpiece. Covering topics that range from love, his anxiety about the future, his passion for film, and desire to get away, this EP becomes a perfect soundtrack for a movie that hasn't been released yet.
Jody Jones graduated this May and I feel like the campus has been gloomy ever since. There's a presence missing at UC, specifically within in the College-Conservatory of Music. Jones brought a light to campus and undefeatable spirit that everyone needs. I'm realizing it sounds like he's dead—so I'll stop—But in a strangely beautiful way, his EP is an upbeat eulogy to his times at UC. Closing that chapter of his life, he has a bright future ahead of him and we at Bearcast wish him the best. Come see us as much as possible.
If you know anyone that does great things here at the University of Cincinnati, make sure  to send their info and a description of what they do to Alex Macon at alexmacon@bearcastmedia.com