Author: Aidan Riggs
This weekend marked the beginning of a new era of University of Cincinnati football. A new conference, a new coach, and new jerseys are all things for fans to be excited about. Yet something that will not change this year is the pregame traditions of the fans. UC fans know how to enjoy gameday, and it all starts with their pregame tailgating. In honor of national tailgating day this weekend, I traveled around to some of the tailgating areas talking to fans about what makes game day so special in the Queen City.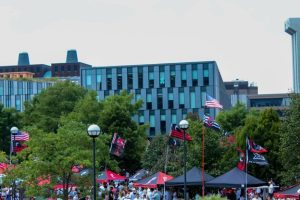 The first thing that is immediately noticeable when walking through the tailgating areas is the school spirit being proudly shown throughout. Not only was it the flags flying high or the UC themed tents, a few bearcats fans brought their UC themed vehicles to the commons. With everything from pickup trucks, to trailers, to repurposed school buses, all kinds of fans showed their team pride.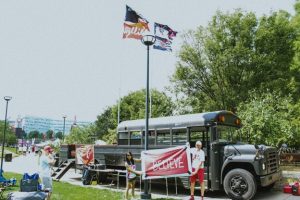 Bearcat fans were decked out from head to toe in their school's colors. Some, like the fan pictured below, even went far enough to get the C-Paw tattooed on their chest.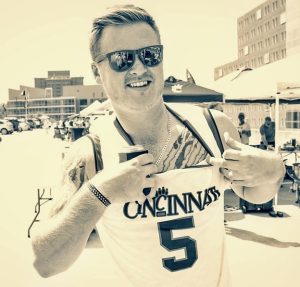 The fans' school and city pride didn't stop here, as a Cincinnati specialty, Skyline Chili, was consistently mentioned when asked what the best tailgate food was. Being from out of town, I was shocked to hear this answer at first, until I saw a surprising amount of coneys being eaten before kickoff. Some other local favorites were also mentioned including Grippos chips and LaRosa's pizza. 
The most common theme seen and mentioned throughout my experience at the Bearcats' tailgate festivities was the sense of friendship and family throughout. "Getting together for games really brings people together. You can't bond over everything, but football brings people together" – one fan said when asked about what makes tailgating special. Whether it's playing cornhole or catching up with classmates, there are ways for all to enjoy tailgating.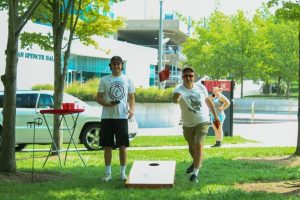 Experiencing my first tailgate on campus was an amazing experience and showed me how much the sport I watch every week means to people. Football connects people in ways you'd never realize, including by bringing people on campus at 9:30 am for a 3:30 pm kickoff. To end, I'd like to add a fan's quote of everything that's needed to enjoy a true Cincinnati Tailgate: "Good friends, good beer, and a skyline coney."