By Tessa Weyer
If you're a book lover like me, this Wednesday, September 6th, is the perfect day for you. It's National Read a Book day! You can participate in this holiday by picking one of the many bookstores or libraries around Cincinnati and choosing anything that suits your fancy. Whether you're a fan of romance or horror, fantasy or mystery, fiction or nonfiction, just crack open a book and spend the day reading!
There are a variety of amazing bookstores throughout the city of Cincinnati that offer a cozy atmosphere and a great selection of books to choose from. One of my personal favorites is Joseph-Beth Booksellers in Norwood. It's located at 2692 Madison Road in the Rookwood Commons & Pavilion and it's only about a 10 minute drive from UC. This store is a fantastic choice to shop at due to its expansive size and wide selection of books. They have any genre you could possibly want and hundreds of books within each one. I particularly love coming here when I need to find a specific book for school because they have a counter where you can tell an employee the name or author of a book you're looking for and they can search to see if they have it in stock.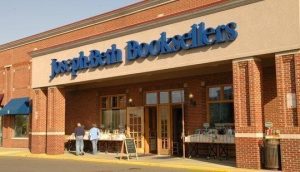 Another great local choice is Downbound Books located at 4139 Apple Street in North Side. Being much smaller than the previously mentioned store, this place offers a very intimate, personal feel that is right up my alley. I've only gone to this store once, but that was enough for me to absolutely fall in love with the atmosphere there. While they are pretty small, they still offer a lot of different choices for books and they are sure to have something you will love. Personally, I'm a huge fan of romance and young adult books which they were stocked full of, so I never ran out of amazing options. This store is also only about a 10 minute drive from UC so I highly recommend you check it out!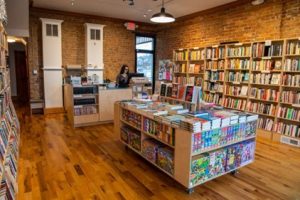 My last bookstore recommendation is actually a record store with a book section downstairs. Shake It Records is located at 4156 Hamilton Avenue and it's also in North Side (This location and the last one are within walking distance of each other). While this store isn't exactly known for their books, it's probably my favorite place on the list. For what it is, they have a decent sized collection of used books, making this a pretty inexpensive option which is great for broke college students. This is also an awesome option because when you're finished looking at books, you can head upstairs and pick out some vinyls or cds as well!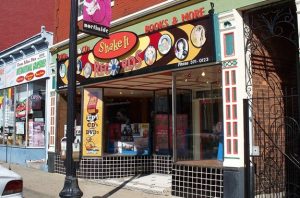 ---
Now onto my book recommendations! As I mentioned, one of my favorite genres is romance, especially the slice of life kind, so if you're like me in that regard, you will love my romance recommendations (hopefully). I'll admit, I'm a big sucker for Emily Henry's books so 3 of my 5 romance recommendations are by her. She currently has 4 books out that I have read, but I'm only going to mention 3 because I haven't actually finished the most recent one yet (sorry Happy Place lovers). Both Beach Read and Book Lovers have enemies to lovers storylines while People We Meet on Vacation depicts the friends to lovers trope. My personal favorite out of all of these books is Beach Read because I love the small town feel that it brings with the main characters residing in cottages on Lake Michigan. People We Meet on Vacation, however, is a great read for Cincinnati-natives or just anyone who loves this city because the made up towns of East and West Linfield that the main characters are from are heavily based on the suburbs of Cincy! I have previously seen all three of these books at Joseph-Beth, so if any of them sound interesting, go check them out for yourself!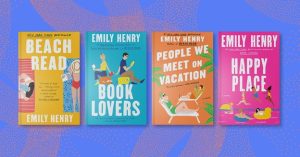 My other two romance recommendations include Archer's Voice by Mia Sheridan and In Five Years by Rebecca Serle. Okay, so In Five Years isn't necessarily a romance, though it is a story about love so I'm grouping it in this section. It's a beautiful depiction of love between two best friends, but it also does include elements of romance within it as well. If you're in the mood to bawl your eyes out, this is definitely the story for you. My last recommendation, Archer's Voice, is an actual romance story. It's about the relationship that forms between a woman who moves to Pelion, Maine, to escape the trauma from her former life and a native to the town who lost his ability to talk in an accident when he was a child. They both find solace in each other and learn to trust people again together. Once again, if you want to sob, this is the one for you. Who am I kidding? I cried during every single book I've mentioned so far, but I think that's a me problem.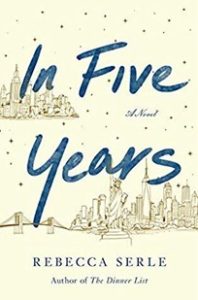 For those of you who aren't romance fans (you freaks) I also have some horror books that I love as well. I'm not very adventurous when it comes to finding new authors (clearly), so both of these books are by Stephen King, and they are Misery and The Shining. These are classic books that many people know about or have seen the movies of, but I highly recommend reading the books instead. Maybe watching the movies right after finishing the books was a bad idea because I felt they were much worse in comparison (though the movies on their own are still very good). Misery is the story of an author, Paul Sheldon, who crashes his car in the snowy Colorado mountains and winds up getting taken hostage by his #1 fan, Annie Wilkes, who forces him to write a new final book in his famous series. I especially like this book because you get to read an entire different story within it as Paul writes the new one for Annie. This is one of the few books that actually had me scared, so I highly recommend it for horror lovers. The other Stephen King book that I want to highlight is The Shining. If you've heard of any book by King, it's definitely this one. This story follows the Torrance family as they spend the winter in isolation at the Overlook Hotel, also in the mountains of Colorado, due to the father, Jack's, new job as the caretaker. The mother, Wendy, and the 5 year old son Danny, have to struggle against the evil nature of the hotel as it takes over Jack. I found that the movie deviated a lot from the book, and Stephen King himself has stated that he dislikes the adaptation, so if you're willing to read through 650 pages, I highly recommend this one. Shake It Records tends to have a variety of King books in stock, so if you're interested in either of these, you may have luck finding it there at a low price.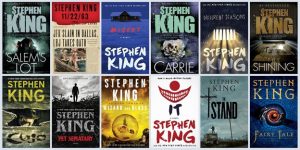 Whether you read all the time or you're just wanting to get into it, this is the perfect day to spend with your nose in a book. If you don't have an interest in any of the books that I recommended (it's fine, I get it. Totally doesn't hurt my feelings at all), all of these bookstores around Cincinnati will surely offer something else that you will enjoy. So venture around Cincy, pick out a book, and get to reading!