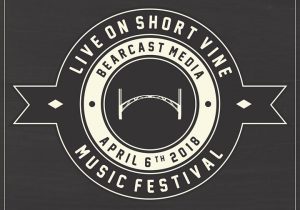 As a young Tim Curry with red lipstick once said: "I see you shiver with antici…pation." Well, the anticipation is over! Bearcast Media is hosting the fourth annual Live on Short Vine Music Festival next week. The long-waited event will take place Friday, April 6th, starting at 5 pm at Hang Over Easy in Corryville.
Short Vine's most popular bars and restaurants will be hosting the festival. Hang Over Easy, Mio's Pizza, Taste of Belgium, and Dive Bar will be serving their delicious food (and bear if you are legal, you sneaky bastard), as you listen to your favorite Cincinnati Bands.
Talking about bands: Have I mentioned that up to 23 groups will be playing? This Live on Short Vine is going to be special! Blue Chairs, Pout, Speaking Suns, WatchFrogs, Luna, Sylmar and many, many more!
The student run festival took place for the first time in 2015, and ever since, has been increasingly growing and becoming one of the most acclaimed events on the Queen City. Bearcast Media has united students and growing artists who are passionate about music and media, to bring you the best Live on Short Vine to date.
So text your friends, your colleagues, your mom, and get ready for the hottest event of the year! It's a free event, which gives you more reason to show up at the venues and enjoy good food and better music.
Check out the Teaser Video for this year's Live on Short Vine here:
Where the event will take place: