Christmas is fast approaching. Why not celebrate the holiday a little earlier this year at Liberty Center, which is located in Butler County. Now, I am not one to celebrate Christmas before Thanksgiving, but I would make an exception to this highly anticipated event. This Liberty Center Holiday Parade and Tree Lighting Ceremony is for all ages. This event takes place tomorrow, November 18th. It sounds like a great event to get you in the holiday spirits, and get your mind off of up-coming exams.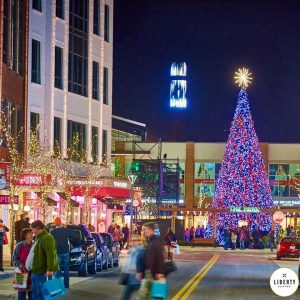 There will be many festivities and things to do during this event. Everything kicks off at 10 in the morning with some discounts at some of the stores in the Liberty Center Mall. This would be a great time to buy family and friends Christmas gifts, since some of the stores will have some discounts. As the day goes on, there will be some live performances, cookie decorating, the movie Elf will be playing, and many more fun, festive activities. Who would want to pass down the opportunity to see a great and classic movie, Elf? The festivities continue at 6pm, with an annual Holiday Parade and the giant tree lighting ceremony going on. From then on, there will be holiday characters roaming around along with the band Amy and the Arrangements after the parade finishes. There will also be carriage rides from 7:30pm to 10pm, Santa from 8pm to 9:30pm. To find out more information about the events, click here.
A tip to going to this event is to arrive early. I have heard that it can get pretty packed in the past and arriving early can help your chances of finding a good parking spot. If you can't come until later, do not worry. There is offsite parking at Lakota East High School. There are shuttles transporting people to and from Liberty Center and Lakota East High School every 20 minutes from noon until 11pm.
The next couple of weeks can be hard and stressful with exams on the horizon. The Liberty Center Holiday Parade and Tree Lighting Ceremony is a great distraction and a fun break to take from studying with a lot of holiday inspired activities to participate in. Bring friends, family members, and anyone you know out to this festive event. Don't be the Grinch and come on out to Liberty Center to have a Christmas-filled, fun time!