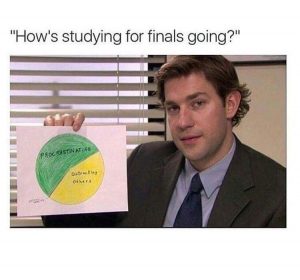 We are so close to being done with this spring semester, but school is NOT ready to be done with us. We still have a long stretch of dreadful and nerve wracking FINALS WEEK. Exams and projects seem to pile up and doesn't seem to get any smaller until the very last day of the school semester. So please don't ask us if we are ready to be done, because that just adds more stress to our already stressful week.
So how can we be less stressful with all the work we have to do?
Plan out your work!

Of course, this plan needs to be a reasonable plan that you can have time to eat and sleep. Planning a overload of work can actually make you inefficient by expecting an inhuman amount of work. (Unless you have supernatural powers, than we won't stop you.) First, decide your priorities. Knowing what needs to be done first can help you decide how much time you have left to finish up and plan out your next steps. Secondly, give yourself some wiggle room. Even though you layout your schedule, realistically it can take longer than you expect. Consider the time for the video to render or the computer to overheat or when your brain keeps farting at you. This wiggle room will help you take a break and refuel yourself with healthy food. Finally, make sure you follow your schedule and be efficient!

Eat fresh vegetables and fruits!

Eating vegetables and fruits are important, but there is more emphasis on eating foods that are light but filling. This doesn't mean don't eat chocolate or candy. Eat that chocolate! Eat that gummy worm! Drink that coffee! Make sure you are not surviving the week with energy drinks and junk food like ramen and chips. Also it can be easier to schedule out your day if you know what you are going to eat and plan your day so you have time to make food. Here are some stress-free ingredients: yogurt, blueberries, oranges, nuts, seeds, avocado, spinach, asparagus, red peppers, chocolate, oatmeal, salmon, and tea. Salmon with asparagus and red peppers sounds delicious!

Simple exercises will keep your body awake!

Sitting for hours can actually cut blood circulation to your brain and make you physically tired. Doing simple exercises and yoga can help you stay awake and help you physically relax. Stand up and stretch from your desk. Do some jumping jacks and knee ups. Straighten your back and relax your shoulders (Child's pose really helps). Go lay down and let your butt rest. If you are reviewing your notes, rest your legs up against the wall. Keep your body awake and refreshed!

Listen to your favorite songs!

Give yourself 10-15 minutes to listen or sing out your favorite songs. This gives yourself a break to review your paper or video/audio edit with a refreshed brain.

Don't panic, my guy.

I know there are so much work to do, but panicking creates a chance for you to make unnecessary mistakes. Have a positive attitude and keep telling yourself that you CAN do it! Know yourself, so you can schedule your time the way that suits you. Know your habits, so you can either avoid them or use them to relax and take a break. Know that you must be efficient and keep yourself motivated. Think about what you will do when your finals are over. Motivate yourself with even the smallest things like watching a Netflix show before going to bed or even with chocolate. Believe in yourself!!
Sometimes it's the little things that becomes a tipping point for your stress level to explode. Don't let stress take over, but believe you can do it and motivate yourself! If you think about it, after the week is over you can have your sunny summer time. Good luck, my guy!!