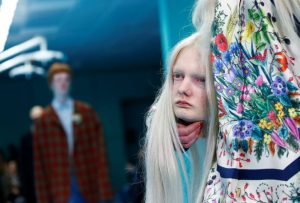 This 2018, the acclaimed Women's Milan Fashion Week took place in the Italian city during the 21st to the 27th of February. Along with New York, Paris, and London, the Milan Fashion Week constitutes one of the most renowned fashion weeks in the world.
As the end of February approached, fashion designers, social media influencers, and curious tourists from around the globe started taking over Milan, transforming the city into a vibrant orgy of flashy colors, shinny fabrics, high heels, and everything in between.
During this edition, up to 70 shows took place in the iconic event. Amongst them, the Gucci runway shows caught everyone's eye, for the better, as always. In the midst of strange outfits and bizarre shoes, no one was expecting what Gucci had to offer this new year: models with three eyes, some carrying baby dragons, or maybe others carrying a duplicate of their own head. Gucci's winter and fall collection was a combination of the baroque, yet innovative, style that the brand is known for, plus an added factor of mythological creatures and the Game of Thrones rage.
Needless to say, the reactions were priceless. Though many people loved the bizarre approach of the brand, many others were left speechless; in a sense wanting to go back to the old times when replicas of heads were not a trend. Regardless, Gucci's name persists as one of the most distinguished names amongst the fashion world within the past few decades, and the madness has just begun.