Dear UC undergraduate students!
It is only seldom that we realize about the plethora of opportunities available to us at UC. Many of the opportunities help us to further our career and make life more meaningful.
In the field of research, the university has been propelling students to attain a better understanding of the world and discover and invent things that would matter. If you are interested in this mystic world of research in your own field of study – Media, Engineering, Journalism, Sociology, Business, et al – then we have some great news for you!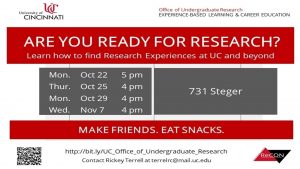 The Office of Undergraduate Research develops resources and systems that connect undergraduate students to research experiences, prepares them for success, and celebrates their achievements. We are looking to promote and develop a university-wide culture of undergraduate research by helping students to explore the research landscape, learn more about the research ecosystem and connect with opportunities that are right for them. We have a number of workshops and events coming up this month and the next and we are always looking forward to connecting with students interested in research with the right opportunities at UC and beyond.
To register for our upcoming workshops, follow the link: http://bit.ly/R4R_
For more information about our upcoming events: http://bit.ly/UC_Office_of_Undergraduate_Research
For more information or any questions: Nirmalya Thakur, Graduate Assistant, Office of Undergraduate Research (Email: thakurna@mail.uc.edu)