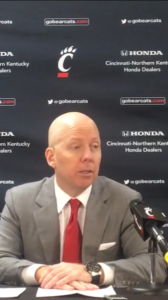 Alex Frank | Sports Director
The goal in the game of basketball is to put the ball in the basket.
That's the obvious takeaway from Wednesday night's 64-56 Bearcats loss to the Ohio State Buckeyes in the first regular-season game in newly-renovated Fifth-Third Arena.
"It hurts a lot," junior guard Jarron Cumberland said. "I don't like losing period. Doesn't matter if it was the first game or last one. I don't like to lose."
The Bearcats did not consistently put the ball in the basket, as evidenced by their 27.6 percent shooting.
Cincinnati's field goal percentage got as low as 13.8 percent for the first half, and the Bearcats found themselves down 38-22 at the under-16-minute media timeout.
Despite getting the deficit cut to four with just under a minute remaining, it was too little too late.
"We dug ourselves a pretty big whole," head coach Mick Cronin said. "Tried to find our way out, but when you're trying to fight your way out of that kind of deficit, you really got to make every shot."
It didn't help that junior guard Jarron Cumberland only played four minutes in the first half after picking up two fouls.
While he did score 22 points, all in the second half, the Bearcats are going to have find other players to turn to when they are in need of scoring.
"It's a process," Cronin said. "As guys get more minutes and get more comfortable, I think there's going to be more production."
But it's all about defense with Cronin
 Despite the Bearcats shooting woes being the biggest takeaway from the loss, Cronin spent most of his postgame press conference talking about his team's defense and lack thereof in the second half.
After giving up just 27 points in the first half and allowing the Buckeyes to shoot just 33.3 percent, Ohio State was much more efficient in the second half getting 37 points on 11-20 shooting.
"We didn't get stops when we really needed them," Cumberland said. "We fouled them when we didn't need to foul. We gave them free points."
Ohio State was an effective 16-22 from the free-throw line including 10-16 from the second half.
"Just because we wear Cincinnati and I'm standing on the sideline, we're not as good defensively as we were last year," Cronin said. "We had some egregious breakdowns. We gave some easy baskets. Our post defense wasn't what it needed to be.
"We're not where we need to be on either end of the ball. Defense, you don't have to shoot the ball in the basket."
Where was Cane Broome?
 While Broome did score five points in the first half with Cumberland on the bench, those were all the points he would score.
Broome went 1-10 from the field and dished out just two assists.
"Cane Broome's got to shoot the ball with more arc," Cronin said. "I haven't done a good enough job of getting him to do that."
Broome scored in double figures 13 times last year for the Bearcats, and he'll need to have that many, and possibly more, of those games this year with a team trying to replace three of last year's top four scorers.
How about the environment of Fifth-Third Arena?
 "It was loud," Cumberland said. "Some of the stuff coach called I couldn't even hear, but it was a good environment."
The attendance tonight was 12,012, the same number of seats in the arena.
"What an incredible atmosphere that was," Buckeyes head coach Chris Holtman said. "This environment tonight was I think beyond anything maybe I anticipated."
It's just the first game
 As frustrating as this game might have been, it's only the first game of the season.
Sometimes teams learn more about themselves in losses than they do in wins and Cronin certainly knows what the Bearcats are capable of, especially on the defensive end.
Shooting better than 27.6 percent is definitely doable.
Let's also not forget that the Bearcats were playing against a high-quality opponent in Ohio State, similar to how Michigan State plays a hard schedule early in the season.
"Tom Izzo always plays hard games early," Cronin said. "He always says it he wants to know how good his team is. He also wants to know what he needs to work on with his team, and his team will listen when they lose."
So as bad as this game might have been, only losing by eight points is an encouraging sign.
At least the Bearcats didn't get blown out by 33 to Duke like Kentucky did Tuesday night in the State Farm Champions Classic.
The Bearcats will be back in action next Tuesday night against North Carolina Central at 7 p.m.. A television network has yet to be determined.