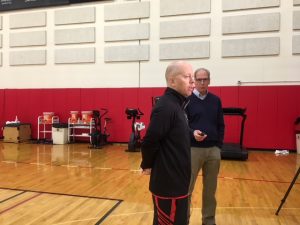 Alex Frank | Sports Director
After a 64-56 season-opening loss last Wednesday night in the first regular-season game at newly-renovated Fifth-Third Arena, the Cincinnati Bearcats men's basketball team looks to bounce back at 7 p.m. at home against the North Carolina Central Eagles of the Mid-Eastern Athletic Conference.
"We just got to work on getting better," head coach Mick Cronin said at a press conference Monday. "We're a work in progress. There's things we're capable of doing. They're a lot harder to do against a real solid team. For this team to win, we've got to be a really really good defensive and rebounding team."
Offense starts with defense
Despite shooting just 27.4 percent from the field against the Buckeyes last Wednesday, Cronin continuously talked about his team's defensive struggles in the second half.
Ohio State weathered multiple Cincinnati attempts at a comeback in the second half by shooting 55 percent from the field while tallying 37 points.
"The message is always the same. You've got to worry about defense," Cronin said. "I thought we played hard defensively for about seven minutes when we changed the game. Other than that, we weren't disruptive at all."
Even though last year saw the offense put up 74.3 points per game, the job done by the defense did not go unnoticed as they allowed just 57.5 points per game.
The point is that even Cronin's best offensive teams and best scorers have also been exceptional on the defensive end.
"Sean Kilpatrick struggled on offense," Cronin said. "He went the month of January and didn't make a three that entire month. I had to get him to see three psychologists."
All the pressure is off
As I look back on the Bearcats opening regular-season game at newly-renovated Fifth-Third Arena, I think there was so much going on surrounding the game that caused jitters within the players.
I also think there was pressure on the players to win that game because it was the first game after the renovations, and they wanted to beat a formidable opponent like Ohio State right out of the gate.
That's why they didn't shoot well from the field; the jitters were getting to them.
But now they have played a game and know what to expect.
"It's time to win," junior forward Trevon Scott said. "No hype. Just play basketball. I'm glad it's over. I wish we could have won the game, but it's time to get the season rolling."
The fact, though, that the Bearcats lost by just eight to Ohio State with the way they played showed that they can be a very good basketball team.
Losing, as bad as it is, is out of the way.
Now this team can focus solely on winning basketball games that will put them in a great position come March.
Player to watch tonight
 Junior guard Jarron Cumberland is the anchor of this team.
How far the Bearcats go will rest squarely on his shoulders.
It's worth pointing out the Bearcats may not have even played Nevada in last year's tournament had it not been for Cumberland's 27 points in the first-round win against Georgia State.
Cumberland scored 22 points on 7-17 shooting last Wednesday.
The only problem was all his points came in the second half, after he sat roughly 75 percent of the first half in foul trouble.
While he was on the bench, Ohio State gradually built a nine-point halftime lead.
For the Bearcats to be successful, Cumberland needs to be playing as much as possible which means he needs to stop fouling.
Tonight's game will get underway at 7 p.m. and will be televised on Fox Sports Ohio and ESPN3.