Alex Frank | Sports Director
Leading up to the 2018 University of Cincinnati Bearcats football season, expectations were average at best.
Athlon Sports projected the Bearcats to go 4-8 for the third straight year while ESPN projected them at 6-6, which would at least make them bowl eligible.
Fast forward to Sunday and the Bearcats were not only sitting at 6-0 but were included in both major poll rankings.
It's the first time the Bearcats are ranked in the Associated Press Media poll since Oct. 14, 2012 and the USA Today Amway Coaches Poll since Dec. 1, 2013, according to the school's sports communications office.
Cincinnati defeated Tulane University 37-21 in a grind-it-out battle Saturday to close out the first half of their schedule.
"It was a battle, it was a fight," head coach Luke Fickell said. "We had a bunch of ups and downs. That second quarter and I think later in the third quarter, the defense was on the field for a long time and that's what you start to feel the energy, the complimentary football we really talk about."
View all of photographer Quinn Villarreal's photos from the Homecoming game and parade at
https://www.flickr.com/photos/140206205@N02/with/31269785998/
Cincinnati's offense struggled to move the ball at times throughout the game, except in the second quarter.
Trailing 7-3, sophomore running back Michael Warren II broke loose up the middle and rumbled 81 yards down the field for a touchdown that gave the Bearcats a lead they would not relinquish.
"It just takes one play for us to get clicking," Warren said. "I think that was the play of the game to get the whole team riled up, to get the momentum for us, get everybody turned up and ready to play."
The play electrified a Nippert Stadium crowd of over 32,000 and it would have plenty more to be excited about before halftime.
Cincinnati continued to click offensively in the second quarter as redshirt-freshman quarterback Desmond Ridder threw and rushed for a score.
His 28-yard rushing touchdown with 41 seconds left before halftime pushed the Bearcats lead back to 10 points at 24-14 after a Tulane touchdown the previous drive had cut the lead to three.
"It was a pass play and I came off my first read and saw a hole in the pocket," Ridder said. "I made a move and that was it."
Cincinnati immediately looked to put the game away coming out of halftime as sophomore defensive end Ethan Tucky recorded Cincinnati's first blocked punt since Oct. of 2008.
The block gave Cincinnati the ball at Tulane's 15-yard line, and Ridder took advantage by finding wide senior wide receiver Khalil Lewis for his second touchdown of the game.
It was a good bounce-back performance for the Miramar, Fla. native after dropping two touchdown passes last week at UConn that Fickell said Lewis believes he should have caught.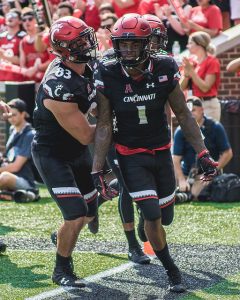 "He had a little bit of a tough week," Fickell said. "Khalil's really really hard on himself because he wants to be so good."
Both teams engaged in sloppy play throughout the remainder of the third quarter as each team fumbled and the Bearcats also muffed a punt.
"We couldn't quite put that thing away to maybe enjoy it and maybe even relax the last six or eight minutes," Fickell said.
Eventually, though, the Bearcats did manage to put the game away and become bowl eligible for the first time since 2015.
You knew this team was bound to at least have a better record than the previous two years when they defeated UCLA on the road in week one and followed it up with a win over arch-rival Miami (Ohio).
After a 63-7 drubbing of Alabama A&M, the Bearcats came from behind 17 points at halftime to defeat Ohio and demolished UConn 49-7 on the road.
Put this game in the win column and it shows that this Bearcats team can find ways to win in all sorts of games and are catching the national media's attention by earning a spot in the national rankings.
Cincinnati is on a bye next week and are heading into it with a lot of confidence.
"It's something that you see when we take the practice field," Fickell said. "It's a little bit of that bounce a little bit of that joy with what they do. You just see a different vibe from the positive but just in the locker room.
"You go in there last year, everybody's got their headsets on. They're just kind of doing their own thing. Now all of a sudden you go in the locker room a half hour, 45 minutes before practice, you got guys holding courts, you got guys dancing. You can just tell there's a better energy and they're enjoying what it is they're doing."
The Bearcats return to action Saturday Oct. 20 at Temple University, a game that will get underway at noon and be televised on ESPNU.