Alex Frank | Sports Director
The Cincinnati Bearcats football team completely and utterly dominated the Navy Midshipmen 42-0 Saturday at Nippert Stadium in front of a crowd of 36,318.
"Obviously thanking not just the student section but our fans," head coach Luke Fickell said. "It was a boost. I know that. Late in the season, especially playing the way we are, playing well especially after last week in the atmosphere to be able to come back in, you know there just wasn't a whole lot of atmosphere.
"I think we realized how grateful we are. I think those guys in that locker room that realize how special it is here and what it is that they're doing."
The Bearcats are now 8-1, 4-1 in the American Athletic Conference and just a game out of first in the conference's east division behind Central Florida.
At the time this article was written, South Florida, Cincinnati's opponent next week, had already lost 41-15 to Tulane.
That puts the Bearcats in a tie for second with Temple.
Cincinnati beat Navy at its own game
 A big thing to watch coming into the game was if UC's much-improved defense could contain Navy's triple-option offense.
The answer was an emphatic yes.
Cincinnati's defense held Navy to just 124 rushing yards on the afternoon on 52 carries (2.4 yards per carry), while the Bearcats offense more than doubled that total by gaining 262 yards on the ground.
"I think the realization that it's going to be a lot faster, it's going to hit a lot quicker [paid off]" Fickell said. "I think last year's game against them was a big eye-opener. There are not many guys in that locker room that had played against them until it was last year.
"So that along with the ability to simulate it better than I've ever seen it simulated. Just the ability to do the things and get it real live."
Navy came in ranked No. 3 in the nation at 307.3 rushing yards per game but struggled mightily against the Bearcats and their conference-leading rushing defense.
Senior defensive tackle Cortez Broughton led the way with a career-high 10 tackles for the Bearcats, continuing what has been an impressive season where he came into Saturday ranking third in the conference in sacks and tackles for loss.
Those rankings are a part of this season that, according to Fickell, has seen a great change for Broughton not just as a football player but also his ability to play hard on a consistent basis.
"[My role] along the lines, I think it's just be a leader," Broughton said. "To be a leader, to just lead by example, but at the same time if somebody has to speak, somebody's going to be spoken to."
Broughton is a captain and one of three seniors, along with Marquise Copeland and Kimoni Fitz, that anchor the Bearcats defensive line.
Bounce back for Ridder
 Despite throwing for a career-high 352 yards in the win at SMU last week, Ridder threw two interceptions and was involved in a fumbled exchange with sophomore running back Michael Warren for a third turnover.
Against Navy Saturday, Ridder was an efficient 13/17 for 178 yards and a touchdown without an interception while running for 66 yards and a score on seven carries.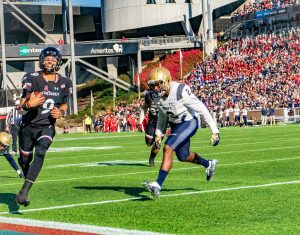 Sharing the wealth
 The Bearcats 262 rushing yards were contributed by five different runners, including Ridder.
Charles McClelland, Warren and freshman running back Tavion Thomas each had over 40 yards rushing with McClelland leading the team with 85.
After not finding the end zone last week for the first time all season, Warren found it twice Saturday to raise his touchdown total to 14 on the year and leaving him 55 yards shy of 1,000 for the season.
Midshipmen-Bearcats Stats
Navy Midshipmen           0            0            0            0_0
Cincinnati Bearcats         7            21          7            7_42
First Quarter
CIN_ Warren II 8 run (Smith kick), 9:56
Second Quarter
CIN_ Ridder 7 run (Smith kick), 12:00
CIN_ Warren 1 run (Smith kick), 4:12
CIN_ Deguara 11 pass from Moore (Smith kick), 0:32
Third Quarter
CIN_ Medaris 55 pass from Ridder (Smith kick), 12:28
Fourth Quarter
CIN_ McClelland 40 run (Smith kick), 10:02
Next-game mentality
 The Bearcats will stay home at Nippert Stadium next Saturday to take on the South Florida Bulls. The time for the game had not been announced at the time this article was published.