With the seasons changing and the temperature dropping, people usually do not want to spend a lot of time outside. You might ask yourself, what can I do inside that would be fun? Well I have one solution for you: The Aronoff Center for the Arts. From dancing, to singing, to laughing, the plays performed at the Aronoff are usually a great spectacle to see. For those of you who do not know what the Aronoff is, it is a performing arts center in Cincinnati.
So far, the Aronoff has shown Wicked, which I can personally say it is a fantastic play to see! Although Wicked has already been performed, there are still many more great plays waiting to be seen by you! There
are classic and new plays that are patiently waiting to be performed. The main 2017/2018 line up are: Finding Neverland, A Christmas Story, Waitress, School of Rock, Chicago, The King and I, Disney's Aladdin, and The Book of Mormon. For more information on each play click here. From a playwright trying to find inspiration for a play to a waitress trying to rebuild her own life, there is a musical for everyone.
You might be asking yourself, how can I buy a ticket? There are different ways to buy tickets. One option is to subscribe and get season tickets. This allows you to chose from two different packages. There are 5 shows included in these two packages along with a choice of seeing either A Christmas Story or Chicago. This price is usually starting around $155 for subscribers. If you are a part of the Patron Club, then the price changes to starting around $566, with some added perks, such as free parking and recognition in the program. You can purchase your season ticket here. Another option is to just buy a single ticket for any of the shows you want to see. Ticket prices for a single show usually start around $30 for these main line up shows. You can purchase a single ticket here and just click on the show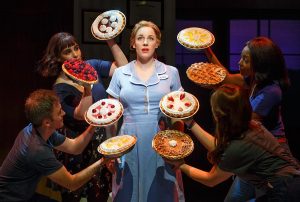 you want to see.
Now you may be thinking that these prices are a little too high, especially with being in college. I will give you some tips to keep your bank account happy. Some of the shows have a lottery two hours before the play begins. This is where they give out discounted tickets. Tickets are also usually cheaper the earlier you buy them. Buying them in person is also another way to save money due to no service charges. Lastly, there are rush tickets the day of the show for students, military, and seniors that are half price. These seats are usually the seats that are not claimed by other people. There is a limit of two tickets per person and are usually available two hours before the show.
The Aronoff is a magical place where your imagination can run wild. With great customer service and smiling ushers, you are in for a great treat. So what are you waiting for? Go out and enjoy the show! For any other questions about the Aronoff, click here.