Teddy Robb is a rising country musician from Akron, Ohio. He recently released his first single Lead Me On with writers Shane McAnally, Matt McGinn, and Ben Fowlers. This week, Teddy performed his first show ever in Cincinnati and invited Bearcast to attend. We stopped to chat with Teddy on October 25th at Riverfront Live.
What's it like to be back in Ohio?
It feels great. I love Ohio. I always think about that as far as what I'm doing and what I'm pursuing I really do love Nashville. But being back in Ohio reminds of the sacrifice that I made to go to Nashville. I love my family in Ohio and it always feels awesome to be in Ohio.
What drew you to the music industry?
It was more of a feeling than anything. I've always loved music, but I never played growing up. I was into sports, hunting, and fishing. When I was 19, 20 years old, I picked up an old guitar because I heard songs like In Color by Jamey Johnson and Troubadour by George Strait. It just gave me a feeling that I had never really felt before. I couldn't really explain it, but I wanted to be able to recreate that for somebody else someday. I just thought to myself: "Let's start learning, practicing, and learning songs so that maybe someday I'll figure out how these guys craft songs that make me feel emotional over three minutes with a couple verses and choruses." Here I am feeling something that is real. That's really what it came down to was wanting to recreate something that someone else did for me.
What musicians have inspired your sound?
It definitely started with Country and I was playing a lot of country music. I moved to Nashville and I was listening to music by Luke Bryan, Dierks Bently, Tim McGraw, Kenny, and Brooks & Dunn. I was really enjoying that. I was playing Broadway. I did that for a year in Nashville. And then I moved out to Colorado for a year. When I was out there, I started getting requested songs like Angel From Montgomery by John Prine or some James Taylor and different folk artists. So I started learning what I call mountain music. I just had to make a playlist for it. It was more of a folk thing, and I loved that too. I feel like spending that year going from Country into this classic country-folk sound is what really helped me define where my sound is from. I'm from northeast Ohio, I don't talk with much of an accent. I don't feel like I have a super country accent. But like mixing the two [genres] helped me figure out what I want to sound like.
What's your creative process like?
Wow, that's different all the time. You know, a lot of it can be just being really inspired over a feeling. I guess the coolest story I have is a song I'm going to play tonight. I had this feeling where every time I would go home it would take me a little longer to say bye. So I'd be in my dad's driveway trying to say bye and I was trying to explain that feeling to people and I wasn't writing the song. But I had three or four months of thinking "why do I feel so strongly about every time I hug my dad it takes me a little longer to let go and it's a little bit harder to say bye." So months later I'm just talking with some friends and I go "that's what longer goodbyes are for," and the title hit: Longer Goodbye. I was like "oh, there's the title for that song I've been wanting to write." So that was like a really cool moment for me. Sometimes it's just a title and you have to be really creative as you write a song around it. And then sometimes it's a real story, like something I can almost write top down. I lived that story. I would say that one is writing a story that I've lived and then two is saying something that sounds cool and writing a story around that. Or sometimes there's just something that's on your heart and you can't really help but write.
What inspired your single Lead Me On?
I was at a bar in Nashville. I heard a girl say "I don't want to lead you on." I thought to myself: "but what if I want to be led on?" At least then you have a shot of maybe going out with a girl or maybe things moving further. If you just say "okay don't lead me on" then you're done. So, it was just kind of that idea that I don't care if I get a little torn up over this. I'm willing to take that chance because even if it's not exactly right or if you're leading me on, I got that chance.
Have you collaborated with any cool artists or writers
I get to work with some of the best writers in the world. I write for a company called Smack Publishing and I feel like I get to write with cool artists and writers every day. Some of my favorites are the guys I wrote Lead Me On with. They are all hit songwriters in their own writing. Matt McGinn is one of my producers and he's written songs for Kane Brown (Heaven and What Ifs) and Ryan Beaver (who's an amazing artist on his own). Aaron Eshuis produces Scotty McCreery. Ryan Hurt and some other people. And then I've gotten to write with heroes like Tom Douglas who wrote The House That Built Me and is in the songwriters' hall of fame. Getting to write with those people, it's like every day I get to write with somebody who makes me go: "Am I really in the room with this person?" One more story on that is the song Troubadour which affected me so much when I was younger because I knew I was going to be that someday. And then one day I'm in the room writing with the person who wrote that song. And I'm just like "Am I really here right now?" I'm doing music partially because they wrote that song. It's pretty crazy. I still can't believe it sometimes.
What is your favorite part about this line of work? Why?
My first six years coming up was playing bars & gigs and performing. And that was what it all started it. I wanted to be on stage and I wanted to entertain. I wanted to make people feel happy and sad and fun and go on this ride of entertaining. About a year ago, I started writing songs every day and, now, it's still performing that is why I do this, but the songwriting is very very close behind it. Those are definitely my two favorite things. It's getting to take songs I've written and getting to play them for people that I think is awesome.
Have you ever dealt with performance anxiety?
I have. I didn't for a long time and then I played the Blue Bird Cafe for the first time. I hadn't been nervous in years so I was like "oh, I'm over stage freight. I'll never feel that again." And then I was playing the Blue Bird and the guy next to me played his song Modern Day Bonnie and Clyde and all of a sudden I got really nervous. I was like: "oh my gosh I'm following this song that I've been on stage singing before in front of the guy who wrote it." My heart was beating out of my chest and I have been nervous. But that's one of the reasons why I love doing it. Like if you're getting nervous you're obviously getting excited. A little bit of nerves is a great thing. As I go along, I'm sure I'll get to a place where I'm not nervous doing this anymore and then I can move on to the next step. That's kind of the process it seems like.
Do you have a favorite performance venue you've been to so far?
The Blue Bird was special. There's a place called the Listening Cafe that we just played at the other day which is an amazing venue in Nashville. 3rd and Lindsley is pretty cool. Those are all in Nashville. But I'm really excited to play The Dusty, which is right outside of my hometown, on Saturday. I just remember growing up and seeing big country acts go through there. I remember when Eric Church was just coming up and they were like "oh, he's playing The Dusty. We think he's gonna be the next thing." He hadn't had any songs out or anything yet. He played The Dusty and now I'm gonna be there this weekend. So it feels like a rite of passage.
What advice would you have for someone wanting to pursue a music career?
Be prepared for times when you think you need to do something else. Those times come up quite often on your way through the ranks. If you feel that moment but you love it and it's what you're passionate about, push through those and get back to work. I remember thinking every time I thought that I should move home and go back to school or get another job.  I remember my parents being pissed off that I got a no: "Why did they tell you no? You shouldn't be told no. You should have your deals." And every time that ever happened, I just remember thinking: "I just got to get better. I'm just gonna go home, pick up my guitar, keep playing, keep working on my voice, and figure out my sound until people can't say no anymore." That's what I would say for somebody young. There's gonna be times when they might think they shouldn't be doing it. Push through those. Now that I'm a little bit on the other side, it's so rewarding to be like "I could have quit, but instead, I'm here with a record deal and a promotion deal and writing songs and getting to live out my dream because in that one pivotal moment when I thought maybe I should or shouldn't I kept going and kept getting better."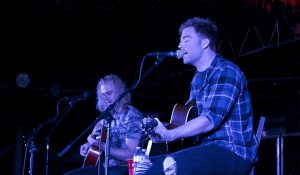 We'd like to thank Sony Music and Teddy Robb for inviting us out to the concert. You can follow Teddy Robb on Twitter and Instagram @TeddyRobb and on Facebook @teddyrobbmusic.