Every city has a handful of iconic foods that they're absolutely known for. Where there's Chicago pizza or Parisian macarons, there's loads of FOMO-inducing Instagram influencers following close behind, making sure we're aware of every bite we're not experiencing. But if you live in Cincinnati, you're probably lucky enough to know about (read, "obsess over") these seven FOMO-filled Cincinnati restaurants that you can't find anywhere else in the country.
1. Skyline Chili
While there are tons of Cincinnati restaurants to choose from, every queen city native knows they can only get their chili fix at one place, and that's Skyline Chili. Whether you like it on a hot dog, in a burrito, or heaped on a plate of piping hot spaghetti, Cincinnati's iconic chili is an obsession you can't recreate anywhere else in the country.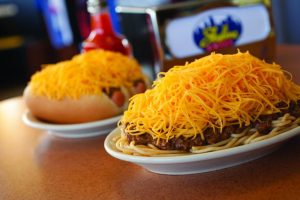 2. Graeter's Handcrafted Ice Cream
Anyone from Cincinnati can tell you that there's a difference between craving ice cream, and craving Graeter's ice cream. On top of having a flavor for everyone, they even have a few custom flavors you won't find anywhere else. Next time you're in, give Cheese Crown a try. You won't be disappointed.
3. Senate
If you thought the Chicago Dog was iconic, you've never tried Senate. A complete restaurant with a focus on hot dog cuisine, they have every flavor hot dog you could think of. With toppings ranging from guacamole to kimchi, this joint is sure to satisfy your taste buds. A true Cincinnati native would take Senate over a Chicago dog any day.
4. Keystone Bar & Grill
Have you ever met a person who doesn't like mac and cheese? Didn't think so. But in the unlikely event that you have (if they even exist), make sure they try Keystone before they reach a final verdict. Queen city natives take their mac pretty seriously, which is why none of us could live without Keystone's award-winning skillet baked mac and cheese. With tons of different mac flavors (all named after your favorite classic rock bands, obvs), you can never go wrong with Keystone.
5. Findlay Market
Okay, this one might be a stretch, but just because it's a market doesn't mean they don't have some of the best food in the city, and we all know it's true. They have any food you could ask for, including locally-sourced farmers market groceries, baked goods, seafood, alcohol, and cultural cuisine from all around the world. Findlay Market is the perfect place for your group if friends that can never agree on what to eat. And who doesn't love doing some light shopping after a filling brunch?
6. Taste of Belgium
Let's be real. Cincinnati's Taste of Belgium may as well have invented chicken and waffles. Not only that, they took it a step further to reinvent chicken and waffles, and we all know it's true. Taste of Belgium is the definition of a perfect blend of sweet and savory, and there's no way you can go without trying one of their iconic waffle recipes while you're in the city.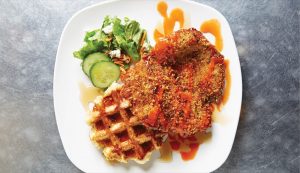 7. La Rosa's Pizzeria
Last, but definitely not least, is La Rosa's Pizzeria. Their menu includes a wide variety of Italian-American style foods that they've been serving to Cincinnati for nearly 65 years. They serve some of the best traditional spaghetti around, and these people know how to make a salad. Ever heard of sun dried tomato vinaigrette? Yeah… it tastes as good as it sounds. Most importantly, their unique pizza is an incredible addition to the Cincinnati menu. Any Cincinnati native will tell you, trying a slice of their heavenly pizza is bucket-list worthy.