It's that time of year again. We're prepping our summer playlists, struggling to make a schedule, stocking up on sunscreen, and trying to manage our bank accounts for the best weekend in Cincinnati – the 2017 Bunbury Music Festival on June 2nd, 3rd, and 4th.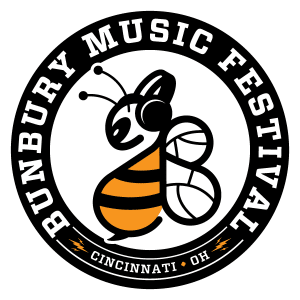 We know, the pre-festival stress can be overbearing. That's why Bearcast has compiled a list of all of the food vendors at the festival, so plan accordingly. This isn't the time to sneak in granola bars and pop-tarts; you need to indulge in all of the options that are available to you. So here you go, treat yourself.
LOCAL FAVORITES
Our city is no stranger to its own heavenly concoctions. We're proud of our stacked list of quality restaurants, and Bunbury is showcasing our hometown heroes well.
Here's the home-grown and highly acclaimed food trucks and vendors that Cincinnati has grown to love. You can find all of them serving our city's favorites at Bunbury Music Festival.
Eli's BBQ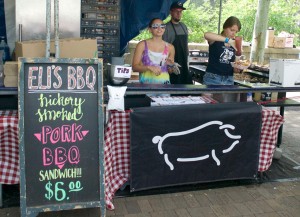 If you live in this city, you are no stranger to the highly acclaimed veterans of Cincinnati's restaurant scene: Eli's BBQ. Last year, Eli's was ranked third in the country by Business Insider for best BBQ with a 9.53 rating.
Stop by and get one of the best pulled pork sandwiches you might ever eat, served with their home-made BBQ sauce and delicious cole slaw.
Tom+Chee
This place makes grilled cheese look way more exciting than the ones your mom used to make. With their Newport location opening a couple years ago, the restaurant chain has quickly become a Cincinnati favorite. With vegan and vegetarian options and delicious tomato soup, it won't be a bad place to visit during your Bunbury festivities.
Ulysses Whole World Foods
Not all of us can eat fried, greasy, fattening food and not feel like a beached whale in the hot sun. If you are a health-conscious kind of music lover, this festival-traveling food vendor is the place for you.
With primarily vegetarian options, Ulysses serves up a varied world menu. They now have free-range chicken! Eat healthy, and feel healthier.
Mazunte
Voted best neighborhood taco joint by CityBeat, and Cincinnati Refined's "15 Amazing Taco Spots in the City", this taco shop located in Madisonville is sure to satisfy your craving.
With a unique menu and organic ingredients, this might easily be the best taco you'll find in the city. Luckily, for you, you can grab one at Bunbury Music Festival.
Grand Central Delicatessen
Located in Pleasant Ridge, Grand Central Delicatessen is providing festival goers with exactly what they need – a nice hearty cold cut sandwich, perfect for sustaining your energy and throughout a hot sunny day.
They also understand how much money you will be spending this weekend, and promise to have the best price point and value to keep your wallet and your tummy full.
Gold Star Chili
If you live in this city, you already know about our sick-obsession with chili and noodles. Grab a 3-way at Gold Star, the official chili of the Cincinnati Bengals.
Mets and Brats at the Miller Bar
Don't forget, this is Cincinnati. If you don't smell mets and brats grilling on a summer day, something has gone horribly wrong. Head to the Miller bar for a regional classic.
Midway Café
Based in Ft. Thomas Kentucky, this restaurant is proud to all of their meat from Ebert's Meats in Newport. With fresh bread baked down the street, and growing their own vegetables in the summer time, festival goers can genuinely taste something home-grown when visiting Midway Café.
UNIQUE EATS
Looking for something interesting? Bunbury Music Festival will feature a collection of other-worldly foods, some you might not have even heard of. Celebrating other cultures and traditions through food, celebrate the cultural delicacies and influences in these many different food vendors.
Che Restaurant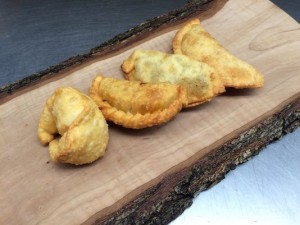 Empanadas AND Pizza. If you have been to Over-the-Rhine recently, you've surely seen the local Argentine Restaurant Bar in action. Quickly emerging in the local food scene, their empanadas may be the perfect unique eat during Bunbury.
Chicken Mac Truck
Why should you have to choose between the things you love the most? Sometimes, the combination is obviously heavenly. Macaroni and chicken lovers rejoice; this food truck is doing it right.
Gosia's Pierogies
Gosia's Pierogies are made from a secret family recipe, passed down generations from owner Terry Rawecki's grandmother all the way from Poland. Made from scratch with only the freshest, all natural ingredients, into a pie/hoagie combo that may be the most interesting, unique food at Bunbury.
POLLO
Simple, yet elegant. This food truck is all about fried chicken. However, they take it one step further, and turn it into gourmet entrees.
Injoy Street Food
Want something new, something you've probably never tried before? This food cart makes fast indian-inspired fare with real, fresh ingredients. Hummus, naan, naan chips, basmati rice, tikkisala sauce, garlic mint yogurt, and much more of your favorite unique dishes with a convenient and festival friendly design and portion. Don't eat ordinary, you're at a music festival!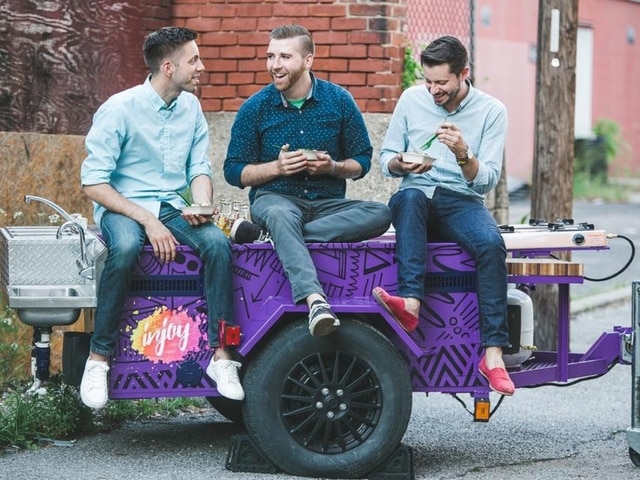 Island Noodles
This isn't your average noodle joint. Serving up traditional Hawaiian-style Yaki-Sobi noodles made from buckwheat, combined with a medley of vegetables and a light island sauce for a unique and healthy dish. Stir-fried with fresh garlic and ginger in specially designed wok stove units, Island Noodles produce a delicately tasty concoction with a ton of flavor, that skips the nuts, dairy, and meat products. This place is perfect for staying sustained on a hot day.
Kabobske
Started one year ago in Northern Kentucky, this Mediterranean-themed food truck is serving up all your favorite dishes. Get a wrap, kabob, falafel, gyros, and other delicious dishes for those mid day cravings.
Hunger Paynes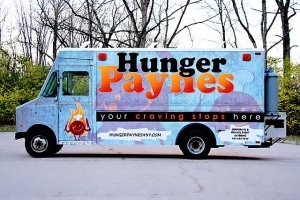 This food truck specializes in one-of-a-kind Croquette variations. What's a Croquette? It's a mixture of ingredients formed into a ball – then it's breaded and deep friend. Yes, deep fried. With a complimenting sauce to make it that much more heavenly.
Hungry Brothers
Topped, and smothered, waffle fries. Classic, and absolutely delicious. Their motto, "We are the guys with the dirty fries," is quite catchy. But their menu is stacked with laughs, including "Kevin Bacon Ranch", and "Vladimar Poutine." If you want to eat interestingly, this is the place to visit.
Wicked Hickory
This isn't your average BBQ shack. For the first time, you can choose how you want it. Pick a meat, and build it from there. You can put it on a taco, on nachos, on rice and beans. You can even put it in a glazed donut. Sounds weird? You'll never know if you don't try it.
DESSERT
Fronana
Looking for something to cool you down, without making you feel like a bloated sea-cow? This treat is made without dairy, without added sugar, and without any artificial ingredients – it's bananas! An ice cream dessert that is vegan, gluten free, and diabetic friendly, all made out of bananas.
Lemonade Shake-up
Lemonade has been chilling us out since we were slinging it on the corner when we were younger. Relax, watch some music, and let the professionals cool you off. You deserve it.
Maui Wowi Hawaiian
The best smoothie you'll ever consume at a festival; Maui Wowi this is a country-wide favorite. A great way to stay cool while getting some good ol' fashion nutrition to stay healthy all weekend long.
Streetpops
If you live hear, you've seen the pushcarts at every Cincinnati event. Streetpops are simple, cheap, and totally worth it. This home-grown popsicle shop serves up delicious flavors, for a quick sweet treat while you're on-the-go.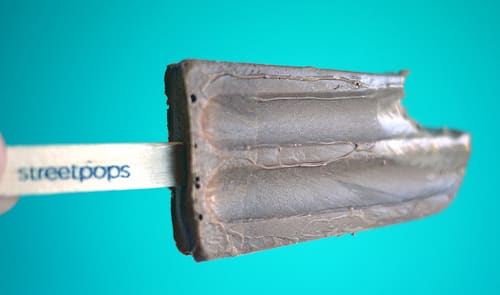 Tweedles Mini Donuts
Donuts — with dipping sauce. Fresh, hot, and tasty. The smell alone will be hard to ignore. Don't resist! We all know you want to. It's Bunbury weekend! Why not?