Alex Frank | Sports Director
Tremendous momentum.
That's the phrase University of Cincinnati Director of Athletics Mike Bohn used as to why there was immense pressure on him and everyone involved in the search for the next head Bearcats men's basketball head coach. Bohn talked about how there was immense pressure in looking for a leader who was a fit for the university of character, leadership and energy.
Well, that leader was found, and it wasn't very far from Clifton. In fact, it was just south of the Ohio River in Highland Heights, Kentucky. After leading the Northern Kentucky University Norse through its reclassification to Division I and winning two Horizon League tournaments that culminated in NCAA Tournament appearances, plus two regular-season championships, John Brannen is now the 27th head coach in the history of Cincinnati Bearcats men's basketball, a program he knows is rich with history.
"Two nation titles, six Final Fours, eight Elite Eights, 31 All-Americans and 57 NBA Draft picks and counting. That will humble any coach, the tremendous success they've had here," Brannen said. "Our goal is to continue Final Fours and national championships. That's the understanding and that's what we will push forward to each and every day."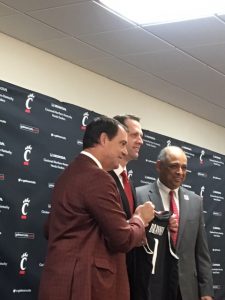 He gets it. Brannen gets this program's history. Forget that this program hasn't been to a Final Four since 1992. There is rich history within this basketball program. Brannen's job is to do what Mick Cronin could not do: take the Bearcats back beyond the first weekend of the NCAA Tournament and to a position to go to the Final Four and win a national championship on a consistent basis, where the rich history lies. In simpler terms, Brannen has the opportunity to restore the Bearcats men's basketball program's rich history.
I'm not disrespecting the job Cronin did here at UC. After all, he did bring the program back from shattered glass upon taking the job in 2006. He even got the Bearcats to the Big East championship game in 2012- the REAL Big East- and to the Sweet 16 that same year. But there just came a point in time where most of us realized that Cronin was not going to be the man to get the Bearcats to where we all want them to go.
That said, it's no guarantee that Brannen is going to be that guy, but he's got a great opportunity to do so. He knows this program has been built on toughness since the day he grew up, and he said that will never go away. He also knows how a good team becomes a great team, referencing the man who was the head coach of the G.O.A.T., Phil Jakcson, in a quote that he said will be talked about greatly. The secret sauce, as he said, is the sacrifice. I'm getting hungry for a filet mignon just thinking about sauce.
"Good teams become great teams when members trust each other enough to forsake the 'me' for the 'we,'" Brannen said.
Brannen said Monday that the Bearcats will play a style of basketball that will "invigorate the fanbase and capture your hearts." Whoa! What does that mean? I don't know exactly, but I think it will be a brad that finally has us up to speed with the college basketball of today.
Brannen is the third head coach or manager hired to lead a Cincinnati sports team since last October. All three of them have one thing in common: they have ties to the Cincinnati area. David Bell is from Cincinnati and was a standout at Moeller. Plus, his grandfather, father and brother all played for the Reds at one point in their respective careers. Zac Taylor was UC's offensive coordinator in 2016, and John Brannen grew up in Alexandria, Kentucky. This wasn't asked by anybody at the press conference or mentioned by Mike Bohn there, but I think Bohn knows that coaches and managers who have ties to the Queen City, or are at least from Ohio or Kentucky, are ideal to lead their respective teams.
Oh, and you don't have to worry about whose side of "The Rivalry" Brannen was on growing up. He gets it that the Bearcats are "Cincinnati's team" and he "learned that." That's all I needed to hear. He's excited to be involved in the Crosstown Shootout. He likes Skyline. He also knows that we, as fans, know basketball.
That's an interesting last point there. Cincinnati is a city built on baseball and football when it comes to sports. Now basketball? When Mick Cronin took the job, you would have had to, as the late great Jim Nabors would sing, go "Back Home to Indiana" to find basketball popularity. But as Cronin and John Brannen led their respective programs in the Cincinnati/Northern Kentucky area with the success each of them had, the enthusiasm surrounding basketball has skyrocketed.
I was all in on Nick Van Exel being the next head coach. I was also high on Darren Savino and Rick Pitino. But I knew all along Brannen was the right man for the job. A local guy who gets the Bearcats program and had great success just across the Ohio River; he just made the most sense. Mike Bohn even said nobody trumped Brannen in the interview process.
Bohn has made some great hires during his tenure as athletic director. Luke Fickell has completely re-energized the football program way more than I ever thought he would. Michelle Clark-Heard is doing unbelievable things with the women's basketball program, and they're just getting started. Scott Googins is doing a great job with the baseball team, and his best years may be ahead of him. And now John Brannen, as the new men's basketball head coach, is another piece to the puzzle in UC Athletics that's a part of the university's "Next Lives Here" campaign.
UC Athletics has tremendous momentum, and Brannen's hire is a testament to the transformation Mike Bohn is leading. It's a hire that lets me, at least, think that Bohn is leading an athletic department that is forward-thinking. Next does live here. Where will it take the Bearcats men's basketball team? Who knows. But as Brannen said Monday, "chance favors the aggressor."