Justin Cashman | Staff Reporter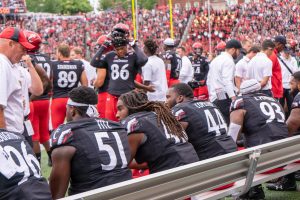 When sophomore safety James Wiggins was asked if he had ever played in a football game in which he was down 21-0 and won, his response was simple.
"No, never," Wiggins said.
With less than a minute left in the game and Cincinnati leading 34-30, Wiggins jumped Ohio University junior quarterback Nathan Rourke's pass for the game-winning interception.
"The best man was going to win on that play," Wiggins said.
Despite the heroics, the Bearcats couldn't seem to get out of their own way through the first two quarters.
"It was a tail of two halves," head coach Luke Fickell said.
Missed tackles and eight penalties for 95 yards, including a personal foul by junior linebacker Bryan Wright and a roughing the passer by sophomore linebacker Jarell White, gave Rourke prime field position to work with during the first half
The 15 penalties were the most against Cincinnati in 61 years and cost the team 150 yards total.
"You can lose your mind when mistakes like that happen," Fickell said when discussing miscues made by his young football team.
The moment the feisty Bearcats defense thought it a sack on Rourke — who is on the watch lists of the Manning, Maxwell and O'Brien awards — the junior would somehow, some way manage to escape.
The Ben Roethlisberger-esque play by Rourke led to 21 unanswered points for the Bobcats through the first quarter and 10 minutes of the second.
Sophomore running back Michael Warren II's 24-yard touchdown run finally ended the drought.
Going into halftime down 24-7, Fickell said his players were shocked, but their demeanor wasn't bad.
Ridder played lights out the entire second half, going 13 of 16 for 204 passing yards with two touchdowns, while also rushing for 28 yards and a score.
Despite Ohio Head Coach Frank Solich's record of 82-9 with his team leading at halftime through 14 years of coaching the Bobcats, they were simply not able to make enough plays as the Bearcats in the last 30 minutes of play.
The huge comeback win puts the Bearcats at 4-0, their best record since 2012 when they started 5-0 and finished 10-3 under then head coach Butch Jones.
Last year Cincinnati only won four games the entire season. Now they go into conference play with a perfect 4-0 record.
The Bearcats open AAC play on Saturday Sept. 29 at 3:30 p.m. against the University of Connecticut Huskies in Storrs, Conn.
The Huskies currently sit at 1-3 and will have to play at a high level to even challenge Cincinnati.