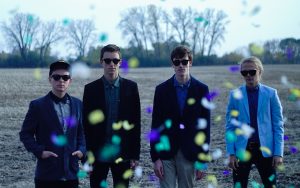 A little while back I got the privilege of seeing two of my favorite bands at the 20th Century Theater, which for those of you that don't know, is a nice little venue in Oakley on Madison Rd. This was my first time at the 20th Century Theater and I loved the atmosphere. It captured that kind of old timey small theater feeling that you'd see in movies or whatever. The atmosphere was also great. It wasn't one of those concerts where everybody is too cool to get into it. However, the crowd was a lot younger than I expected and I did feel a bit out of place as the crowd was significantly younger than I thought. This however is just a small nitpick on an otherwise great night.
There were two bands performing an opener from a smaller band that I absolutely love called Sure Sure from Las Angeles and then the main act that was Hippo Campus from St. Paul, Minnesota. Before you read further, here is a link to one of Sure Sure's more popular songs: https://www.youtube.com/watch?v=vCO4xnENZko. A really catchy song if you ask me. If you dive deeper into the album, which was released January of this year, you'll find more of the same catchy tunes. If you are a fan of some other indie pop rock bands then I cannot recommend them enough. Now, for their actual performance, it was nothing short of spectacular, being smaller they didn't try to impress you with the typical lighting tropes or forced banter between songs. They just jammed, and they jammed well. One of the better live performances I've seen, and I've seen my fair share. Perhaps what I enjoyed most about their performance was from the lead singer/keyboardist. I was impressed with how effortlessly he was able to multitask between the two. They played pretty much everything from there new album then handed the reigns over to Hippo Campus.
I'll be honest, I was more there for Sure Sure than I was Hippo Campus and thusly I wasn't as interested, but still Hippo Campus is a great indie band and a pleasure to see perform live. They were touring their newest album too although they did rehash some of their older songs which I was extremely happy about since I like their older stuff more. The crowd loved every second of their performance and I guess I did too because by the time it was all said and done I was exhausted. If you are interested in hearing some of Hippo Campus here is a link: https://www.youtube.com/watch?v=n3TQKEUne5Q
Great Venue, Great Bands, Great Show.
20th Century Theater Hosted a concert for Hippocampus and Sure Sure. It was spectacular