Heart-warming, emotional, and hilarious are three words that could be used to describe Home Again. There was a twist to the storyline that one does not see coming. Before seeing this movie, I had a pre-determined idea of how this movie would begin and end. I was mistaken. There were plot lines, relationships, and themes that were not expected to occur in this Romantic/Drama style of film. The film showed a not-so-expected type of romance throughout the film as well. The audience holds their breath, while the romances tangle and forms webs of relationships.
The movie is about a woman named Alice Kinney, portrayed by Reese Witherspoon, who is a recently separated woman with two daughters. Alice moves her family out to California. She feels like she has hit a mid-life crisis and is trying to figure out this new life as a single woman raising two children. To forget her mid-life struggles of turning 40, she goes out to celebrate her birthday at a bar. This is where she meets three attractive, young men who are pursing a career in filmmaking. Their names are Harry, portrayed by Pico Alexander, George, portrayed by Jon Rudnitsky, and Teddy, portrayed by Nat Wolff. After a long, fun-filled night, Alice, through the persuasion of her mother, offers her guest house to the three men. You witness the struggles and tribulations of a single parent trying to start a new career. The movie does not only focus on Alice and her life. You will also see the storylines of becoming great filmmakers, along with the daughter's pressures of being the new kid at school.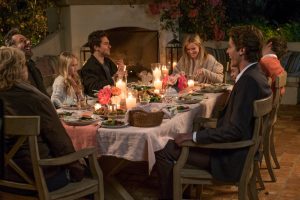 Some of the scenes did feel like they dragged on a little to me. Although I wish it were true, I felt like the storyline was not as relatable as it could have been with having three guys being in love with one girl at the same time. Overall though, I thought all of the actresses and actors were stupendous in their roles at portraying real life characters going through realistic issues. I also thought the writing for the film was well done and the overall storyline and conclusion of the film was unique and fun. The cinematography, editing style, and color scheme for this film was consistent throughout the movie. By the end of this movie you will feel satisfied, heartfelt and happy, or at least that's how I felt!