Deer Tick's two new titular albums Deer Tick, Vols. 1 & 2 are absolute delights for fans of the gritty, enchantingly grotesque band from Providence, RI. It is extraordinarily rare for a band that has been around for over a decade to put out new material that is fresh, yet retains the same spirit and sound that has kept fans listening for so long, but Deer Tick Vols. 1 & 2 do just that. The tracks on the latest projects, however, float at a higher level of refinement than previous albums. The focus on meaningfully layered lyrics, crisp guitar technique, and musical arrangement started on their last album Negativity. However, their latest project is the culmination of all the hard work they have done in refining their musical storytelling in the past four years.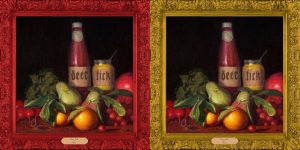 Front man John McCauley has cleaned up his act since marrying singer-songwriter Vanessa Carlton (yes, of "Making my way downtown, walking fast…") and having a baby with her. These duo albums make clear that the beloved folk-rock troupe, and its members, have all done some growing up, but not enough to soil their intoxicating mixture of rebellion and tenderness. "Sea of Clouds" is the crux of this marriage of finish and grit, the perfect mesh of McCauley's breathtakingly wistful lyrics and Ian O'Neill's entrancing guitar skills. Not to oversell the song, but watching this video of the PDX Live Studio version is nearly a religious experience.   "Jumpstarting" is yet another example of the band's ability to hold on to its raucous roots while adding a subtle bit of polish in the lyrical content and their instrumental skills.
Classic Deer Tick, with a bit of polish.